Thanks to all our traveling over the last year we were able to earn enough American Airlines miles to bring our entire family on an unexpected trip to Boston to visit Brian's parents. The kids were very excited because it's been a long time since they've seen their grandpa. We were excited because we know the kids have never met their great-grandpa Jack and great-grandma Lee.
Day One
Our first morning in Boston brought an early morning trip with Brian, his dad, and Ethan on a trip to the famous Kane's Donuts. Considering we live a couple of miles from the world famous Donut Man, the kids wanted to put these donuts to the test and see if they compared.
That afternoon, most of the extended family came over so we could visit. The kids were really shy at first but they eventually got comfortable and enjoyed hanging out with everyone. I wish I had taken more photos but we were so busy visiting and eating that thought didn't cross my mind. Here are a few good ones that I did catch though.
Violet had so much visiting that she volunteered to go upstairs to take a nap. I went upstairs and this is what I found:
Meanwhile, Great-Grandpa Jack was getting scrappy with Uncle Mike: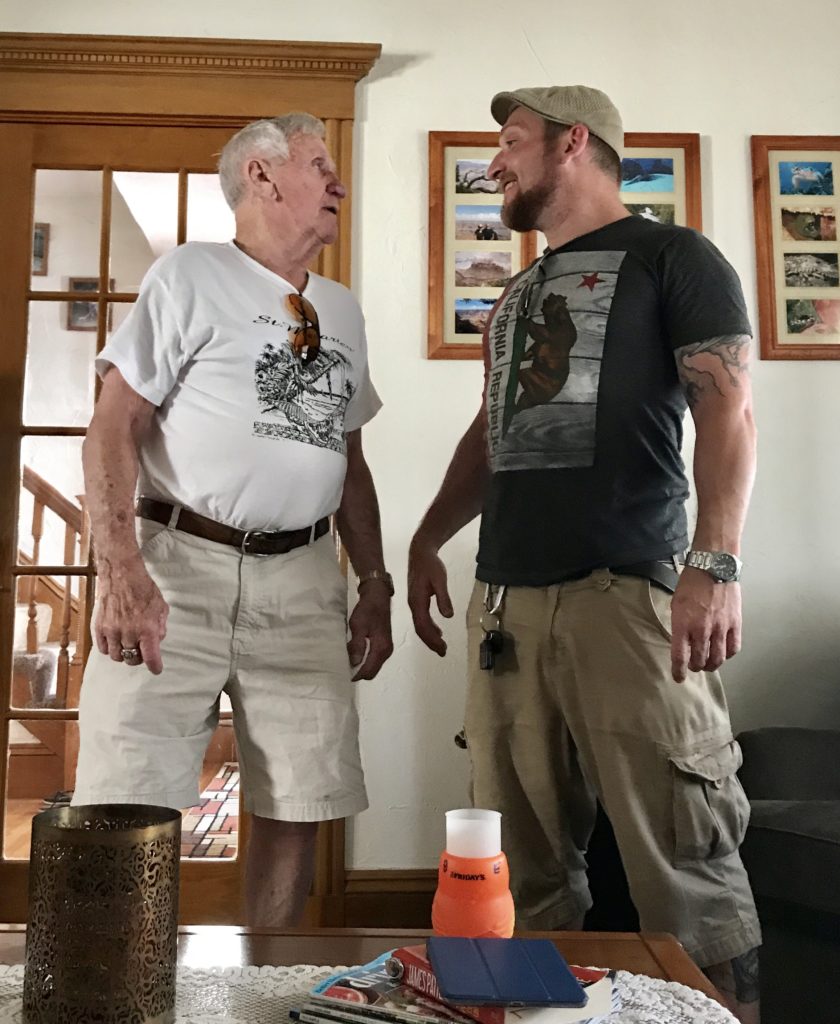 When Violet finally woke up she was a bit of a grouch. I tried cheering her up with her favorite pastime…Snapchat. It "sort-of" worked:
After the party was over, Violet was Grandma's little helper. She helped put things away, clean up the kitchen, but dishes away and she even helped vacuum:
Day Two
We started off day two with a trip to The Paper Store. We don't have these stores in California. When Paula described this store to me I immediately begged her to take me. It's like a Hallmark Gold Crown store on crack. I had so much fun shopping here and spent way more than I should have. I bought another Vera Bradley handbag in the Lilac Tapestry print  (and it was on sale – half off!), a couple of things for my co-workers, a bracelet and even a Mad Libs book for Ethan. So fun!
After that we headed to the train at Wellington Station to head into Boston for a day of touristing. The kids were excited to take the train and see the city but they wanted to eat first. So we headed to the Union Oyster House, the oldest continuously operated restaurant in the United States. Ethan tried his first fried oyster here and feel in love. That only makes the day monumental!
After lunch, we walked over to the Modern Pastry Shop in the North End for dessert. This place had a line out the door and we found out why.
After all that food we needed to walk off breakfast. So we walked through the city, including following parts of the Freedom Trail and some historic landmarks. Don't forget to hover over the photos to see captions on each photo.
After all that walking we were thrilled to sit down and rest while enjoying the historic swan boat tours.
After the swan boats we did a little more walking, a little more shopping, and toured the Boston Public Library before heading home to meet Grandpa.
Tomorrow we are visiting Salem so stay tuned!