For Thanksgiving this year we did something a little different. Brian's parents (Paula and Jimmy) and his brother (Michael) flew out west from Boston to visit for a week. We spent the whole week with them plus we visited with Noni and Papa both in the desert and had them all over for a Thanksgiving feast. Normally, the four of us don't take time off that week and we usually join my family (on my mother's side) for a potluck Thanksgiving dinner at my aunt and uncle's house. It's usually a menagerie of American and Asian food – which means I don't eat traditional Thanksgiving food because it's my chance to indulge in Vietnamese food.
The first day everyone arrived we went to the Staples Center in Los Angeles to enjoy an LA Kings game on Girl Scouts Day.
It's always a good day when the Kings win!
After the game we took a little walk through downtown Los Angeles to have an early dinner at Bottega Louie. It was a nice walk with perfect weather followed by an awesome meal.
The next morning, Michael, Jimmy and Ethan went to do a little brisk lake fishing. Sadly, they didn't catch anything but they had fun trying and bonding.
On Tuesday we drove out to join Paula, Jimmy and Michael in the desert to visit Noni and Papa. We had a relaxing day with family and, of course, food. On the way home from dinner we discovered that Tesla brought back the holiday Easter egg on the Model X. So we all ventured outside after dusk to enjoy the show.
After the video was over this appeared on the screen inside the car: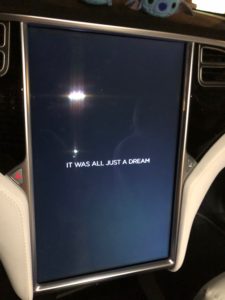 Thanksgiving day was more like feasting day. Like most of America we ate until we couldn't eat anymore. Somehow, I (the queen of food photos) forgot to take a picture of all of the food. I did get a photo of the 26 pound (yes, you read that right – 26!) tom turkey though. After dinner we managed to pull everyone together for a family portrait (yay for iPhone X and Apple Watch for awesome photos with a remote control). After Noni and Papa left the kiddos, as usual, begged to play with Snapchat.
Rather than joining the Black Friday madness, we opted outside…at the Disneyland Resort of course! The kids loved spending the whole day there with Mom, Dad, Grandma, Grandpa and Uncle Michael. And it was a full day of magical fun from breakfast to dinner and then some.
As you can see, we had a fantastic week. We are truly thankful for family and the time we got to spend together. We hope you all had a great Thanksgiving too.