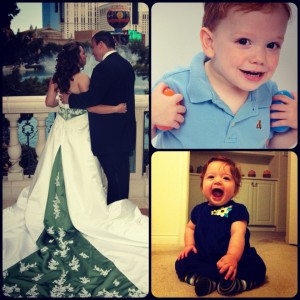 There's an American saying, "When you meet the right person you will just know it."  We always wondered "how do you know?"  Then we met each other.  We both spent years search for that special someone.  It's funny how you really do just "know" when you find them.  We always laugh when people ask us how we "knew". There is no logical explanation.  Love just happens.  And when it's real and true you will just know.
During our first year together things moved so fast.  It was kind of scary.  We have found that there is no timetable for love.  There is no such thing as "going too fast".  When it's real love you have all the time in the world.
We met in May 2007 and became friends.  We started dating in September of that year and we've been together since October 2007.  We got engaged in May 2008, married in October 2008, and our son, Ethan, was born in May 2009. Life definitely moved fast for us in the beginning but it has never felt so right for either of us.  In 2011 we had our second child, our daughter Violet.
Although we have both endured many of life's unexpected twists and turns, we have come to realize that they are all part of life's amazing journey.  We are who we are because of all that has happened in our lives.  We look forward to an even more amazing journey ahead.  Join us on this journey through our website…