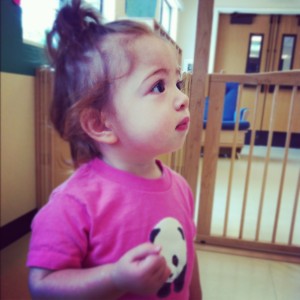 I took the first pregnancy test on Thursday, August 12, 2010 of all places at Brian's office right before we were about to pick up his parents from LAX.  I wanted to know so I could share the news upon their arrival in person.  If you look at the first test it's not clear if it's positive or not.  It looks like it is but I wasn't 100% certain. So Brian and I made a run to a local drug store and bought the digital test below.  Yep, this one was much clearer…"Pregnant"!
Brian and I were both hoping for a girl because we agreed early on that we only ever wanted two kids (it was just a nice even and manageable number).  We just thought it would be nice to have one of each.  Lucky for us, we found out on Friday, December 2, 2010 that God was blessing us with a girl!
Picking a name is always the hardest part for us. Oh, sure, pregnancy and labor is hard but picking a name is even harder.  I mean, come on, it's going to be her identity for the rest of her life!
I've always wanted a little girl named Violet.  For a long time I didn't' think that would ever happen.  I wanted to name her but part of me wanted to see her before I made sure that the name would stick.  Being a planner, not having a name picked out a month before she was due was killing me!
~Maureen